COMMITTED TO QUALITY SINCE THE VERY BEGINNING.
Our story began in 1966, when our founder, Howard Halpern, arrived in Atlanta, GA, to start his own perishable food distribution business. His top priority was delivering exceptional and delightful meal options that people would feel good about eating. Today, we still have that same passion for the center of the plate, providing thousands of food service operations across the U.S. with the freshest and highest-quality meat, seafood, and protein solutions available on the market.
After being voted Best Meat and Seafood Market by the Atlanta public for four consecutive years, Howard Halpern knew he was on the verge of something great. In 1983, with only five butchers, the Halpern family started the meat and seafood distribution company for which we've become so well known. And the rest was history.
We're now operating production and distribution facilities in Georgia, Texas, Florida, Maryland, New Jersey, Michigan, and Kentucky – serving a wide-range of clients across the East coast and the Midwest. That same drive and passion that was instrumental in revolutionizing the industry over fifty years ago has remained clear throughout the years – we exist because we believe that we can help you succeed.
WE SERVE THE SERVICE INDUSTRY.

The dedicated employees who work at Halperns' are passionately committed to this business and the customers they serve. Being part of Halperns' means being part of something important, something unique, and something special. This commitment is made clear by the superior products we distribute.
WORLD-CLASS MEAT AND SEAFOOD DISTRIBUTION.
We source only the best from local and national farms and ranchers for our partners across the East coast and the Midwest.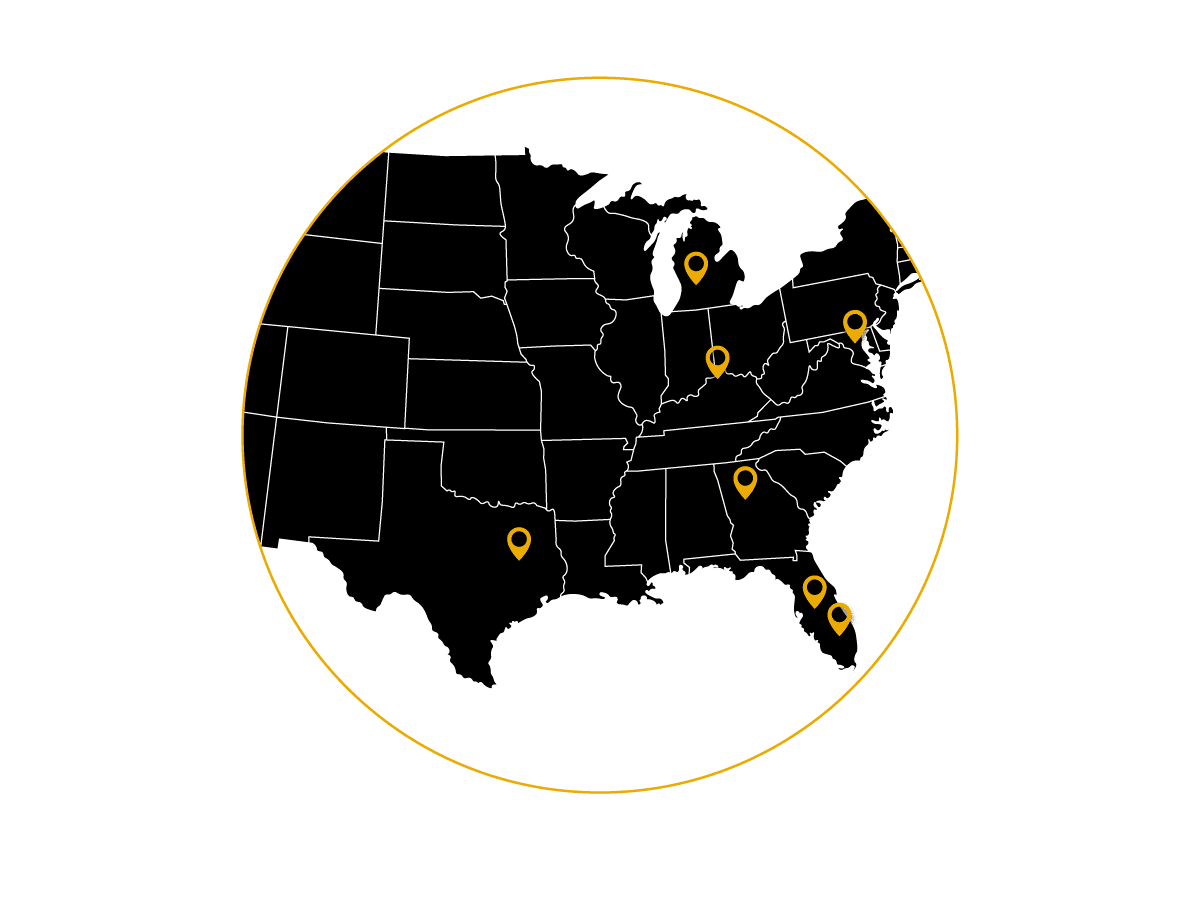 Committed to our customers.
Delivered on-time, every time.
Because of our nine distribution hubs across the U.S., we can deliver directly to you on our fleet of trucks. And for most customers, we can usually offer next day deliveries.
PARTNERS, NOT SALESPEOPLE.
At Halperns', we truly understand your business. We believe in consultative selling and have put together a sales force primarily made up of former Chefs and Restaurant Owners, Operators, and Managers.
Whether you're serving 5,000 guests this coming year or 15,000 guests tomorrow, our wide assortment of products will help you create a unique dining experience of diverse cuisine, healthy meal options, and creative culinary concepts.
LOCALLY SOURCED PRODUCTS.
Halperns' partners with national companies that have devoted significant resources to practices that protect the environment. In addition, we also source multiple protein options, as well as cheeses, honeys, and specialty produce from local ranchers and farmers.
Our expansion into eight facilities has created local distribution hubs reducing the number of miles driven back and forth.
With over 250,000+ square feet of specialized temperature-controlled refrigerated storage and processing space, Halperns' operates one of the largest food service meat specialty networks in the United States, completely dedicated to center-of-the-plate proteins. We are inspected and audited by third-party agencies whose requirements exceed those of the USDA and FDA.
Suppliers go through an approval process to ensure wholesome practices on their part, and we take the extra steps including internal auditing of all our facilities to provide you with the assurance that we strictly manage a system that safeguards the products we deliver to your door.
Other safety practices we have in place are:
HAACP
Quality Assurance Programs
Good manufacturing practices
Training
Traceability