Lamb, traditional and versatile, is one of the most dynamic center of the plate options. Halperns' inventory ranges from heavy domestic product to a full selection of imported items. The Grove Meat Company supplies most of our domestic product, and we use only the top-rated suppliers for our imported offerings.
We're proud to feature Australian offerings and New Zealand Lamb in a variety of product lines, cuts and sizes. Raised on unspoiled pasture land, free of hormones and antibiotics, these next-generation lamb offerings are lean, flavorful and all-natural.
Imported Lamb
Australian Lamb is available to U.S. customers in a variety of product lines and numerous cuts and sizes. Halperns' is proud to feature a couple of different brands, both harvested to our demanding specification is truly the next generation of lamb. Imported Australian Lamb is featured on so many menus these days. Australian lambs are raised on the country's unspoiled pastureland, without unnecessary hormones or antibiotics. The genetics results in a lean, flavorful, all-natural product. Stringent feed management practices and selection processes, coupled with strict product specification, consistently produce a quality product. Australian Lamb is naturally aged for tenderness and the mild flavor offers unsurpassed freshness, quality, and value on today's menus.
In addition to the Australian Lamb, which is predominately available fresh, we also feature lamb from New Zealand. New Zealand Lamb is typically available frozen. The Australian and New Zealand lamb products we have available are as follows:
Tenderloin
Top Sirloin (Rumps)
Loin Eyes, 8-10 ounces
Loins, Bone-in
Semi-boneless Lamb Leg
Foreshanks
Hindshanks
14/16 NZ Frenched Racks
16/18 NZ Frenched Racks
16/18 Australian Frenched Racks
18/20 Australian Frenched Racks
24/26 Australian Frenched Racks
28/up Australian Frenched Racks
Grove

At The Grove Meat Company, Inc., the finest and freshest USDA Choice and Prime American Lamb is all we process and distribute. This was established in 1980 when Salvador Aguilar first opened the cooler doors of the Grove Meat Company. Quality is what would separate his lamb company from all the others. And so has it remained to this day. His experience with lamb dates back to the 1950's and his interest in serving his customers with highest regard goes back even further. This dedication has been forwarded on to the second generation, his sons. It is from their skill and knowledge that Grove can guarantee only The Finest in American Lamb and will continue to do so in the years to come.
In addition to Grove's exceptional Quality Control program, Halperns' takes it one step further, having our product hand selected to meet our specifications. Our inventory selections include:
Hotel or Split and Chimed Racks
10 Bone Carving Rack
8 Bone 4″ Frenched Rack
BRT Legs and Shoulders
Trotter Off Lamb Legs
Denver Ribs
Foreshanks
Lamb Osso Bucco
Hindshanks, Frenched
4 X 4 Loins
Block Ready Loins
Lamb Leg w/lemon garlic
Inside Top Round
Lamb Stew
Ground Lamb
Lamb Bones
Niman Ranch Lamb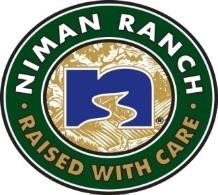 Niman Ranch Lamb is:
Never given antibiotics – ever
Never given added hormones – ever
Fed only the finest all-vegetarian feeds
Humanely raised on environmentally sustainable U.S. family
Niman Ranch's summer lamb are raised in the Livermore Valley & the Rio Vista areas of California. Niman Ranch lamb come to market at an average of 7 months of age, and never older than 10 months of age. This young lamb ensures a rich, mellow flavor that's never gamy. Niman Ranch lamb are raised on pasture for 4 to 8 months. They are then fed a high quality grain and roughage diet, or graze on alfalfa for finishing. This high quality diet results in a lamb that has matured to an optimal 120-135 lbs. Their low stress environment and ample grazing room contribute to rich marbling and delicate flavor. They are 100% traceable to parent stock. To maintain the high level of genetics that provide consistently high quality product, Niman Ranch raises the following breeds (Ewes): Dorset, Polypay, Targee and Rambouillet, (Rams): Suffolk, Hampshire, and Shropshire.
Niman Ranch raises livestock traditionally, humanely and sustainably to deliver the finest tasting meat in the world. Niman Ranch isn't just one ranch. They are a network of more than 650 sustainable U.S. farms and ranches. Our products include:
Split and Chimed Racks
Cap off Frenched Racks
3″ Frenched Lamb Racks
Boneless Lamb Loin Double, Tied
Boneless Lamb Loin Noisette
Block Ready Loins
Trotter off Legs
"Easy Carve" Semi-boneless Legs
Top Sirloins
Tenderloins
Thomas Foods International

Thomas Foods International (TFI) is Australia's largest 100% family-owned meat processor. BrandSAEstablished in 1988, the company is led by Chief Executive Officer Darren Thomas and his father and company founder Chris Thomas.
The TFI group of companies generates annual turnover in excess of $2 billion and employs more than 3000 people globally. Processing on average 120,000 sheep, goats and lambs and 5000 cattle per week across the group, TFI supplies national markets and more than 85 overseas destinations.
TFI operates three meat-processing plants in Australia, located at Murray Bridge and Lobethal in South Australia, and Tamworth in New South Wales. The group also has a wholesale and distribution business that services the needs of the domestic market. TFI is represented in the United States through its subsidiary company Thomas Foods International USA. This company services the entire North American market with distribution centres across numerous states and is the continent's largest importer of Australian chilled beef and lamb.
Chiappetti

Through four generations of tradition, our meats are humanely raised by American family farmers – ensuring the highest quality and value for our customers.
Our delicious, sought-after lamb begins by partnering with the best family farmers in the Midwest. Our lambs are born and humanely raised without the use of artificial growth hormones. They are then expertly finished on a special blend of Midwestern corn and oats, which produces tender, mild-flavored USDA Choice-graded lamb your entire family will love.