Interview with Chef, Pano Karatassos
Today, Pano Karatassos, the executive chef at Kyma and corporate chef for the Buckhead Life Restaurant Group, stops by the blog for an interview. Recently, he appeared on the show, Beat Bobby Flay (and he beat him!), and his book, Modern Greek Cooking, has been available since 2018. He is well known for his Greek and Mediteranian dishes. Coming soon, he will be launching his Chef Pano brand product line, which consists of extra virgin olive oil, two types of honey, two types of olives, and feta cheese all of which have been hand selected by Chef Pano on his trips to Greece.
How long have you been cooking?
I started cooking when I was a young child with my grandmother. She moved in with us when I was 8. Professionally, I started cooking at 15 years old for my father, I. Pano, at Pano's and Paul's.
Where did you train to cook?
I started cooking at 15 at Panos and Pauls. I continued to cook for my father at the Fish Market at Lenox, 103 West and The Atlanta Fish Market on Pharr Road and Corner Cafe. Then I went on to cook at the prestigious Culinary Institute of America in Hyde Park, New York. After graduating from the CIA, I then cooked in New York for two and a half years under Eric Ripert at Le Bernadin and for two years for Jean Georges Vongerichten at his flagship restaurant, Jean Georges. Then I moved to California and cooked for Thomas Keller at the French Laundry for a year and a half. Afterwards, I came home to open up Kyma with my father and brother, Niko Karatassos.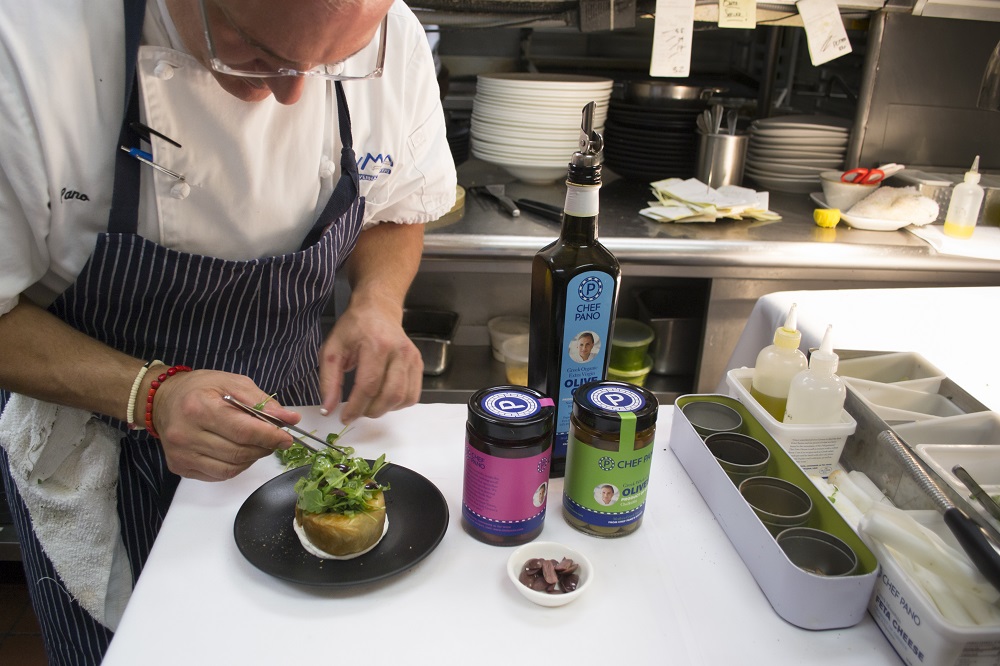 How would you describe your style of cooking?
I have a modern style of cooking. It's very clean and crisp. I focus on high-end quality ingredients and fine dining.
What is the inspiration for your menu?
The Greek and Mediterranean cuisine, the foods that I grew up cooking with my yai yai (grandmother), and a reflection of Greek recipes cooking with esteemed cookbook authors and my trips to Greece.
What is your favorite dish to cook?
I don't have a favorite dish, but I love cooking seafood in various ways and of course lamb, especially when provided by Halperns'.
What are your favorite ingredients to work with?
I like to use olive oil, lemon juice, and spices consistent with Greek and Mediterranean flavors.
How does Halperns' fit into your vision for your restaurant menu? How does Halperns' support you in that pursuit?
Lamb is a large part of Mediterranean cuisine and Halperns' has always provided me the best lamb. Ever since opening Kyma, Halperns' has been a great resource for meat, especially lamb, beef, chicken, and pork. Halperns' is very hands on so if I'm looking to do something different, they are great to collaborate with so that we wind up serving something extraordinary.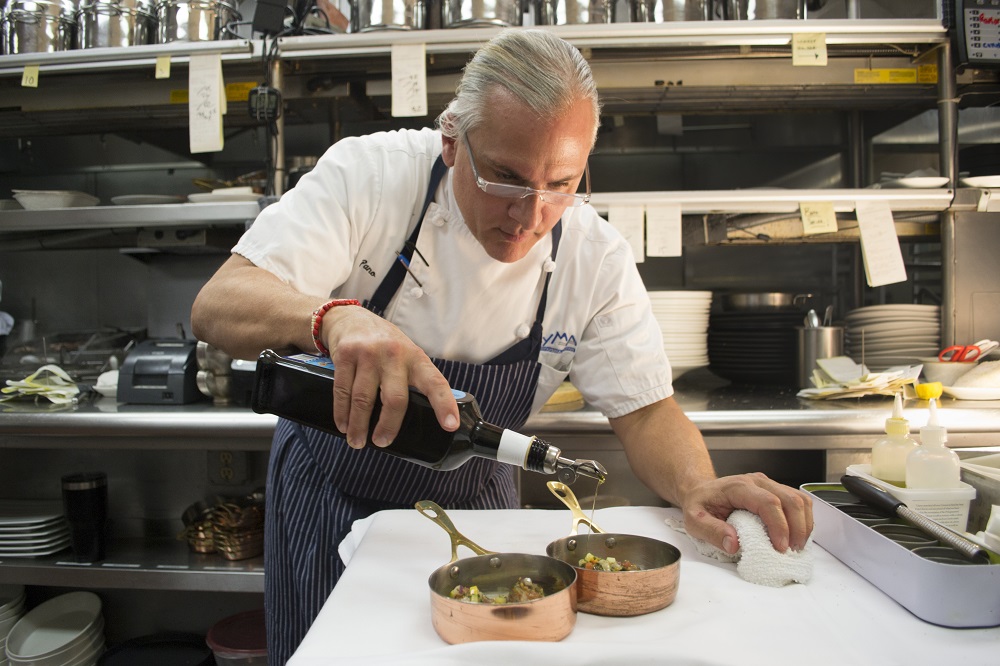 What can you tell me about the Chef Pano products distributed by Halperns'?
The Chef Pano products were born after 15+ years of running Kyma and serving Greek/Medeteranian cuisine and having clients ask me where to get the products that we are serving at Kyma. From the olive oil we use or tableside service in almost all of my recipes to the Greek honey that we pour over our donuts and yogurt to the olives we use in various recipes in salads and of course the beautiful feta cheese that we top our tomato and cucumber salad with. To answer the call, I developed the Chef Pano brand and started working with the families and farmers of these various products to bring to Atlanta.
I'm extremely happy with Halperns' and have them provide these products to the marketplace, and we have enjoyed a very healthy partnership. We were very successful in our first year and are excited to be doing this again in our second year.
You were recently on the Food Network show, "Beat Bobby Flay." (And you beat him! Congrats!) How was that experience?
It was an incredible experience from the time I arrived in Brooklyn, got on set, met the team members and Bobby, and all throughout the competition. I got to learn what a production studio does for a tremendous show up front and personal. The show is as real as it appears! Bobby Flay was a true gentleman even though he does not like to lose. I beat Bobby Flay and wasn't able to celebrate until the show came out, which was the hard part. The show is available for viewing on the Beat Bobby Flay YouTube Channel in Season 21, Episode: Finding Stars.
Who are some other chefs you admire?
I really admire my mentors. These are chefs that I cooked for and aspire to be like. My father is also an excellent chef and has mentored me during my time as Executive and Corporate Chef.
What do you enjoy doing on a day off?
I love spending time with my children. There's nothing more I love to do than spending time with my children.
What would you say to someone who wants to become a chef?
Becoming a chef is an incredible career for the truly passionate cooks. If you enjoy cooking and serving other people and making them happy then you have the first step of what it takes to go through the long and tremendous training that it takes to become great. Only work for the best chefs you can possibly work for. And don't let anything distract you from pursuing the best training you can possibly have.